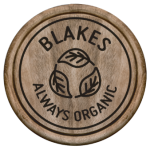 Blakes Always Organic is based Drumshanbo, Co. Leitrim since 2012. The company is focused only on certified organic produce.
Their current products are Organic Kefir, (a probiotic health drink for gut revitalisation made with whole organic milk) and Whole-bean Artisan Organic coffees.
One of their Directors, Sean McGloin, became aware of the health benefits of the fermented milk kefir and was making kefir for his family before developing the product on a small commercial scale.
Kefir originates in the Caucasus mountains. Hundreds of years ago kefir was found high in the Caucasus mountains villages of nomadic shepherds who had abnormally good health. While half the world was dying of malnutrition and disease, these shepherds and their families lived long, healthy lives with little or no disease. On further research, they discovered that part of the diet was a milk product that was stored in bags or containers made from calf stomachs. As temperatures rose the natural bacteria in the wall of the calf's stomach bag impregnated the milk causing fermentation resulting in billions of good bacteria that was regular drank by the shepherds to achieve good health.
In 2016, Blakes Always Organic commenced selling "Feel Good" Organic Kefir. Starting off, they made batches of kefir in a small 20 litre Bain Marie, which they bottled and labelled by hand. They had to move to a 200-litre vat within 3 months and in 2018 they had to purchase an 850-litre vat. They currently produce around 1600 litres per week. The product proved to be very popular with their health-conscious customers. Three years later, and their production scale has grown continuously to cater for the increasing demand as the undisputed health benefits of milk kefir is the main driver of sales.
Their other Director, John Brennan, worked closely with Coffee and Cocoa farmers in South America, so Organic coffee was an obvious product choice for them. With the help of a local coffee expert in Carrick-On Shannon, in 2016 they launched their first blend of whole bean coffee: Blakes Always Organic 'Culture Blend' Coffee. This blend won the Bord Bia Organic award in 2017 for the Best Prepared Product category, despite stiff competition. In the Summer of 2018, they were proud to add a second blend of coffee to their products:  Purely Arabica Blend, and recently launched a third Organic coffee: a Peruvian Arabica, decaffeinated using the CO2 method rather than solvents for a coffee with all the flavour but little or no caffeine.
Blakes Always Organic is continuing to grow and evolve, and as they do so, they hope to create more jobs in the local area.
Blakes Always Organic employs 6 staff and are embedded in the local community.