The Food Hub has emerged as a specialist food and hospitality training facility – utilised by Failte Ireland, Rural Food Skillnet, BMW Smallholders Skillnet, Irish Egg Chain Supply Skillnet amongst others.
Some courses planned for the near future:
Start your own Food Business – This special course will bring food entrepreneurs through the necessary steps to set up their own food business ( ran over 6 weeks with 2 days free access to the time share community kitchen where they can perfect their product)
Labelling – a 2 day course to assist producers  comply with labelling requirements in terms of Health, Nutrition and Fortification Claims; The Marketing Considerations for Legal Food Labelling
Food Safety and Hygiene and HACCP – Training in Quality management systems including BRC, HACCP, Bord Bia Quality Assurance Schemes. Level 1 & Level 2 Food Safety Training based on Food Safety Authority of Ireland Guideline Primary Course in Food Hygiene – Certified by the Environmental Health officers Association
Branding and Packaging – A 3 day training programme to assist Leitrim food companies to benchmark their packaging against industry competitors and use this as the basis for improved, more professional presentations.
New product development programme –  Food companies are increasingly coming under the influence of food trends and market changes as the larger companies continuously innovate to protect and grow their businesses. This programme will address the need for businesses to innovate.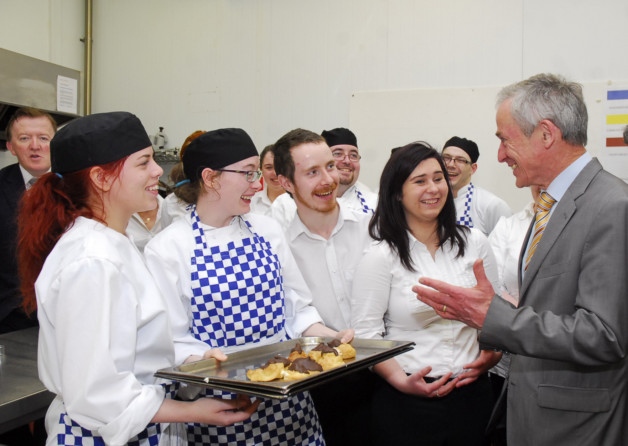 Minister Richard Bruton shares his culinary skills with students who are taking part in a Hospitality Operations FETAC Level 5 Course in The Food Hub.